Cinta Bahasa Indonesian Language School was first established in Ubud, Bali in 2010. Since then we have received several thousand students who have come to learn Indonesian Language with us. Many people are seeking to learn Indonesian Language in Ubud, and through recommendations they usually find us easily.
Cinta Bahasa is located on the west side of Ubud, about 250m north, up the road from Bintang Supermarket, across the street from the well-known Indus Restaurant in Sanggingan, on the second floor above the Indomaret. There is plenty of parking for cars and motorcycles in front and in behind the school building.
Facilities:
6 Classrooms & Learning Spaces.
Breezy Front and Rear Patios.
Free Wifi
Refrigerator, *Free* Tea & Coffee & Snacks stand.
Indomaret Convenience Store downstairs
Car & Motorcycle Parking
Many Hotels and Restaurants within very short walking distance.
Gallery
Location
div>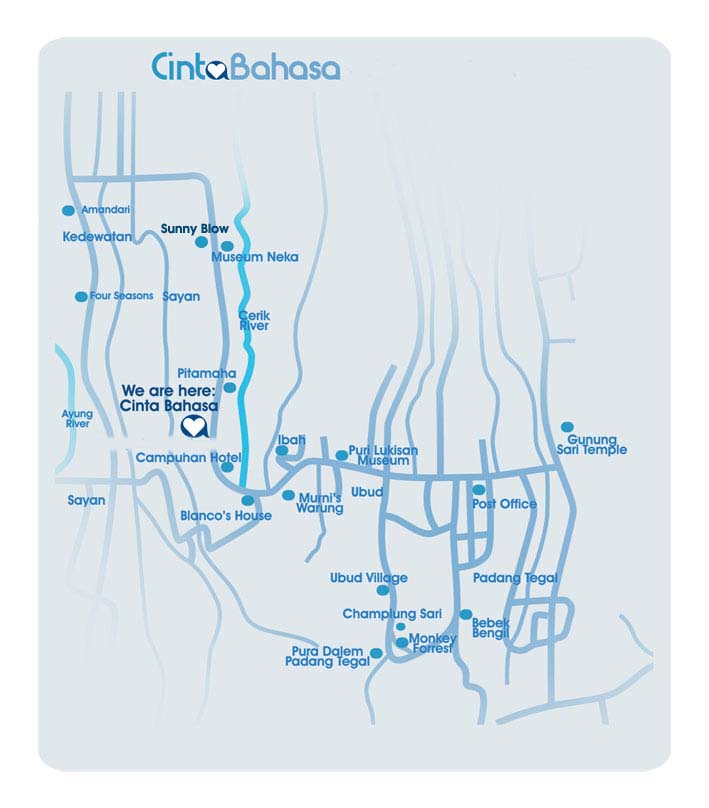 Ubud is considered to be one of the cultural hearts of Bali. Located in the cool mountains at an elevation of around 600 meters, just one and half hour's drive north of the airport and the resorts of southern Bali, this traditional country town is home of one of Bali's royal families.
Ubud also has a flourishing crafts industry and is a major exporter of Indonesian products to North America and Europe. Around Ubud, the surrounding villages like Campuhan (where Cinta Bahasa is located), Penestanan, Peliatan and Batuan specialise in crafts and woodcarving which are sold all over the island. There are hundreds of shops selling antiques, woodcarvings, crafts, textiles, paintings and jewellery as well as some of the best art museums in the country, dozens of art studios, an excellent local craft market and galleries.
There is also an incredible amount of things to do and learn in Ubud. Quickly becoming the center of learning in Bali, there are literally hundreds of courses that you can take from batik painting, carving and jewelry-making, to dance, yoga, pilates, meditation, to cooking, learning to speak Indonesian language and many, many more. If you get bored sitting by the beach easily, then be sure to put Ubud on your travel itinerary.